So, indeed, my birthday IS today. (Sparkly!)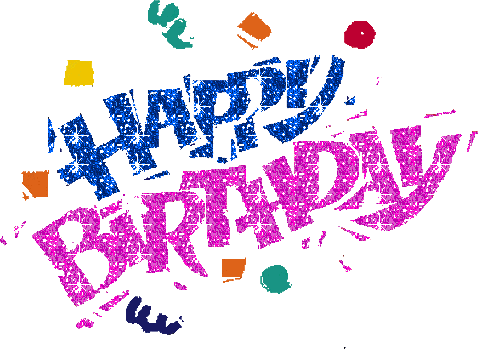 AND it IS as exciting as every other birthday except now, I get to share it with you guys! SO, I wanted to celebrate with all my awesome followers and readers!
First, I just want to say THANK YOU. Thank you for all your comments. Thank you for bearing with me. Thank you for withstanding my constant fangirling. And lasting, thank you for just visiting my page and reading my posts. It literally, makes my day ten-times better. It makes me feel that creating my blog is important, that people DO actually enjoy reading my posts. My blog wouldn't survive with you guys, so thank you once again!
I have nothing special planned for my birthday, probably just hanging out with my twin( who's birthday is also today, of course!) and family. I have to say that I am SUPER excited that it's on Friday. Fridays are the best day of the week, in my opinion! So, that makes my birthday somewhat special, since it always seems that my birthdays are on horrible days like Monday or Wednesday. But, enough about that, I have a giveaway that I hope you will like! I really enjoyed this book, so I wanted to pass it along, to give to another devoted reader. AND it is signed! I really thought that makes the giveaway alot cooler ;)
The ARC does look a bit different than the official cover, but I still really love the ARC!(Sorry for the crappy quality!)
Here's the description:
Sixteen-year-old Dusty Everhart breaks into houses late at night, but not because she's a criminal. No, she's a Nightmare.
Literally.
Being the only Nightmare at Arkwell Academy, a boarding school for magickind, and living in the shadow of her mother's infamy, is hard enough. But when Dusty sneaks into Eli Booker's house, things get a whole lot more complicated. He's hot, which means sitting on his chest and invading his dreams couldn't get much more embarrassing. But it does. Eli is dreaming of a murder.
Then Eli's dream comes true.
Now Dusty has to follow the clues—both within Eli's dreams and out of them—to stop the killer before more people turn up dead. And before the killer learns what she's up to and marks her as the next target.
AH! Seriously, this was an AWESOME book, so you want to enter this giveaway.
The rules are simple.
Rules:
*You must me at least 13 years old or have parental permission
*If you happen to win, you must respond to my e-mail within 72 hours before I pick a new winner.
*This giveaway is only for US entrants (sorry international peeps!)
*I will pick the winner via random.org and e-mail the winner to get their address. I will NOT share your address with anybody else.
a Rafflecopter giveaway