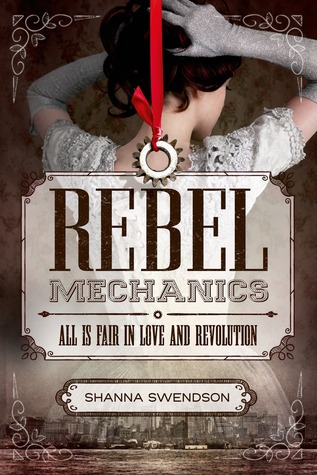 A sixteen-year-old governess becomes a spy in this alternative U.S. history where the British control with magic and the colonists rebel by inventing.
It's 1888, and sixteen-year-old Verity Newton lands a job in New York as a governess to a wealthy leading family—but she quickly learns that the family has big secrets. Magisters have always ruled the colonies, but now an underground society of mechanics and engineers are developing non-magical sources of power via steam engines that they hope will help them gain freedom from British rule. The family Verity works for is magister—but it seems like the children's young guardian uncle is sympathetic to the rebel cause. As Verity falls for a charming rebel inventor and agrees to become a spy, she also becomes more and more enmeshed in the magister family's life. She soon realizes she's uniquely positioned to advance the cause—but to do so, she'll have to reveal her own dangerous secret.
Hello, everyone! Today I'm excited to spread around the word of Rebel Mechanics. This is my first time joining the
Sunday Street Team
, where we bloggers spread around the love for books we're excited about/have already read and loved! This month's pick is Rebel Mechanics by Shanna Swendson. And let me tell you, I'm
so
pumped to read it! Alternative history+spies+swoony romance=perfect concoction of a book. I'll move on to the important part of the post, now...A warm welcome to Shanna!
Guest post: Books That Inspired You to Write Rebel Mechanics
I read nearly sixty books to prepare for writing Rebel Mechanics, but it was two books, and their position on the bookshelf, that actually inspired the book in the first place.
I've always been interested in the Victorian era. I love the architecture and the clothing, the art, books, and music. My furniture is somewhat Victorian. My dream home is Victorian. So when steampunk came on the scene with its "Victorian with a twist" aesthetic, I was intrigued. I thought it might be something I'd enjoy writing, a way to use the Victorian setting while still doing fantastic things. There was just one problem: I didn't have any story ideas.
Then one day I was working on another book and got stuck. While I daydreamed about what should happen next, I found myself staring at the bookcase nearby, and my eyes fell upon two books sitting side by side. One was Jane Eyre, which has long been one of my favorite books. I read a condensed and edited "children's" edition when I was about ten and have read the full thing several times since then. I see just about every movie or television adaptation that gets made. The other book was a romantic adventure novel by Madeleine Brent. This was a pseudonym for novelist Peter O'Donnell, author of the Modesty Blaise books. His Madeleine Brent books were all about young women who grew up outside England and learned some kind of special skill, then came to England and had to try to fit into Victorian society before danger caught up with them and they had to use their mad skills to survive. I inhaled these books when I was a teenager, and they're skill great fun.
Looking at these two books together suddenly gave me the idea that my story could be about a young woman who comes to be a governess in a wealthy home and then has crazy adventures with a bunch of rebellious engineers. The story expanded from there and went in a few different directions. My original intent was for it to be a bit more Gothic and focusing on the spooky house and being surrounded by people she couldn't entirely trust, but that went by the wayside once I started figuring out the characters. But the core of a governess who has adventures remained.
I should probably stare at bookcases more often. I wonder what my next bookshelf mashup will be!
Thank you, Shanna, for sharing with us some of the backdrop for such a cool setting!
Shanna Swendson is the author of the popular adult romantic fantasy series, Enchanted, Inc. Rebel Mechanics is her first novel for young adults. She lives in Irving, Texas.

Make sure to enter to win a copy of Rebel Mechanics!