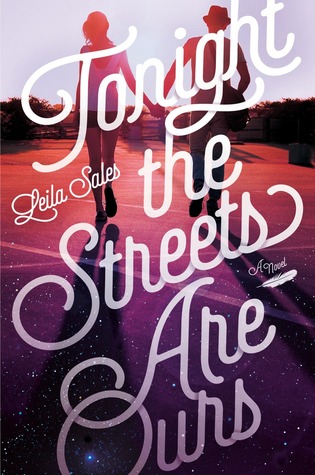 Seventeen-year-old Arden Huntley is recklessly loyal. Taking care of her loved ones is what gives Arden purpose in her life and makes her feel like she matters. But she's tired of being loyal to people who don't appreciate her—including her needy best friend and her absent mom.
Arden finds comfort in a blog she stumbles upon called "Tonight the Streets Are Ours," the musings of a young New York City writer named Peter. When Peter is dumped by the girlfriend he blogs about, Arden decides to take a road trip to see him.
During one crazy night out in NYC filled with parties, dancing, and music—the type of night when anything can happen, and nearly everything does—Arden discovers that Peter isn't exactly who she thought he was. And maybe she isn't exactly who she thought she was, either.
I'm never been a huge fan of coming-of-age stories. There's multiple reasons for that, but for the most part, it just comes down to the fact that they simple aren't usually my cup of tea. I decided to change my mind about them after reading This Song Will Save Your Life, my first Leila Sales book. It was utterly beautiful, realistic, and addicting. You can imagine how pumped I was to get my hands on Leila Sales's new book, Tonight the Streets Are Ours. While I had a few qualms, Tonight the Streets Are Ours is yet another beautiful story.
"
What had become abundantly clear to Arden over the past month was this: there were people in the world who didn't know how to take care of others. There were people who walked away even when they'd made a promise to stand by you. There were people who threw around the word love but only acted on it when it was convenient for them.
And Arden was not one of those people.
"-taken from ARC
One thing I found the same with Tonight the Streets Are Ours as This Song Will Save Your Life is the writing. Leila Sales just has the most gorgeous writing, that made me want to read the book all at once. It made me attached to the story right away. It gripped me. And that's usually the problem I find with contemporary books for me-they simply don't grip me like fantasy books. But that's not the case with this book.
In this story, Arden is fiercely loyal to the people she cares about. She does almost anything to protect them. But when she starts noticing that people don't seem to love her as much as she loves them, that loyalty backfires against her. I found it hard to connect with Arden at some points in the story-and others, I found it easy. I think it's just personal that I didn't always love Arden; I'm sure tons of readers will find it easy to relate with her. For me, though, I didn't always love the way she viewed the world. However, that also made it easier for me to see how much character development she underwent. And, nevertheless, Arden was always an interesting character to read about.
I adored the interactions and relationships portrayed in this novel. Most importantly, Arden and her best friend, Lindsey's relationship. It was such an
honest and real
friendship. Like most friendships, their bonds are tested. But, also like friendships, they understand how to forgive each other and move on. The honest portrayal of the relationship between Arden and her parents was also great. I won't go into much depth, but I wanted to note that that was an awesome part of the book, too.
The romantic part of the story wasn't all that "romantic". But that is what I was expecting. The two love interests were Chris, her boyfriend, and Peter, the writer who she becomes enamored with. As with the other characters, I loved the relationship with Chris and Arden. Probably not for the reasons you're thinking. It's not the kind of relationship where they love each other at all times and make-out and forget about all their problems. No, this is a sincere and again,
real
relationship. I don't want to say more in case of spoilery. Peter and Arden's relationship. I don't yet know what to think. I really don't know what to say. And for this, I definitely don't what to spoil it, so I guess I'll move on...
Because this was such a hugely character-driven story, I found the plot lagging sometimes. Especially before Arden decided to take the road trip to New York. There was never anything ultimately
exciting
about the plot. There was most definitely one time where I was shocked and lost the ability to speak, but I still don't think it quite made up for the slow pacing. That's a huge reason why I didn't love Tonight the Streets Are Our as much as This Song Will Save Your Life.
Overall, Tonight the Streets Are Ours was a great story. While I loved the writing and relationships between the characters, I found the plot lagging a bit, but that won't be a problem if you love a good character-driven story. I really adored the character development, but I also immensely enjoyed the morals Arden questions. If you're a fan of realistic contemporary books, this book is for you!