This title totally gives away what topic I'm talking about today. Uh-huh, I'm talking about you there, the person staring at the computer screen( or I suppose, an iphone). I don't nearly enough thank my followers, the people who make me want to write these posts. I know, I know. Most bloggers say that they would blog even without readers or followers. That doesn't go for me. My followers and readers are what makes blogging fun, communicating with bookish people/nerds. That is my reason for starting this blog, so I can spread the joy.
Every comment I receive, I literally smile, because that means that people are taking time to read
my
posts, however lame they are. Megan @ The Book Brats was talking recently about
popularity
. She was saying that she finally felt okay with being just ordinary. I don't know how, but Megan can always tell exactly what I'm feeling sometimes( like talking about being jealous, for another example). That post made me realize that it doesn't matter if you have 2 million followers. It doesn't matter if you get 200,000 unique page views a month. It just matters that you have readers, even only 1, to at least read your posts.
I most want to thank the readers who happened upon my blog, and found my posts somewhat entertaining. Who clicked subscribe or follow, because you actually enjoy reading the good ole blog. I usually don't do giveaways. Mainly, because then I have a whole bunch of followers that don't actually like my posts, just my giveaways. I'd prefer just to say to leave a comment or a free entry.(A few months ago, I would shamelessly do giveaway hops just to get more followers. I feel so bad now.)So, even if you followed me for a giveaway and still read my posts, then I am so thankful to you. You really don't know how much I love seeing getting one more follower. Every new RSS follower, every new e-mail subscriber, just EVERYTHING! Even if you don't follow me, even if you're just reading my posts,
thank you
!
Thank you a million times, reader! I love love love you for taking the time to comment or read my posts!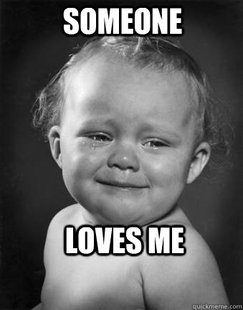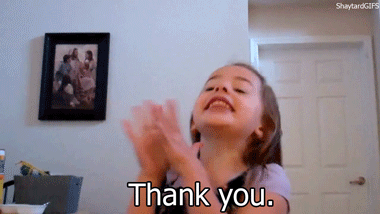 (Okay, okay, I am finished now.)(I had too much fun with this.)