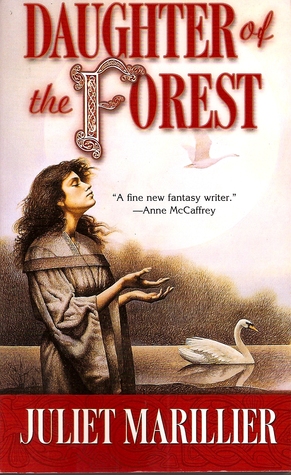 Lovely Sorcha is the seventh child and only daughter of Lord Colum of Sevenwaters. Bereft of a mother, she is comforted by her six brothers who love and protect her. Sorcha is the light in their lives, they are determined that she know only contentment.
But Sorcha's joy is shattered when her father is bewitched by his new wife, an evil enchantress who binds her brothers with a terrible spell, a spell which only Sorcha can lift-by staying silent. If she speaks before she completes the quest set to her by the Fair Folk and their queen, the Lady of the Forest, she will lose her brothers forever.
When Sorcha is kidnapped by the enemies of Sevenwaters and taken to a foreign land, she is torn between the desire to save her beloved brothers, and a love that comes only once. Sorcha despairs at ever being able to complete her task, but the magic of the Fair Folk knows no boundaries, and love is the strongest magic of them all.
Daughter of the Forest has been known as a classic fantasy novel, and it was to my delight that Daughter of the Forest deserved its high praise and attention. I discovered while reading it that my older sister had even read it and loved it back in high school. I really-I can't even how awesome this book was. There were many squeals involved(am I the only one who screams into their blankets during an awesome part of their book, because I did that quite often).
It is with some sadness that I say I didn't love Daughter of the Forest in its entirety. The beginning was definitely hard to get into. Don't let that scare you away! Let me explain. I started Daughter of the Forest about two weeks ago. I then proceeded for another five days to read ten pages every day, because it was, like I said, difficult to get into. It's not as if the beginning was so boring it didn't intrigue me a little, but the pacing was incredibly slow. When you're reading a book that is short and sweet, then move to a book that is, umm, really descriptive, it's hard to get into that book. About the first half of the book spends a better part of its time setting up the world and characters. While I appreciate world building, I felt the pacing could have perhaps moved a bit faster. Even so, the beginning was good. I was excited to see what would happen by the first twenty pages. But knowing that anything exciting wouldn't be happening until another hundred pages put me off, which explains why I had difficulty reading more than ten pages for a couple days. After two hundred pages, though, it was a totally different story. Basically, the real journey starts, and everything became interesting.
Maybe the introduction of the hot romantic interest had something to do with it.
The plot surely picks up pace in the middle, and the climax was perfectly executed. The ending, as well, left just the right amount of satisfaction and curiosity for the next book.
I'm a sucker for certain cliches. In this case, the cliche was of enemies falling in love. Of course, I don't want to spoil too much, because you would only understand if you read it but...guys! The romance was so, so swoony. "waves hands in front of face" This honestly is my favorite fantasy romance of all time. It's a slow burn romance and has many trials throughout. You may be thinking, Trials? Not sure if I like the sound of that... Marillier has this ability, though. An ability of convincing the reader to fall in love with the romance(that sounds ironic, doesn't it). I was eating out of her palms by the end, hanging on every word. And again, the romantic interest. "takes cold shower"
As I already said, the first half of the book spent alot of time simply introducing the characters and the world. This brought both pros and cons for me. I already pointed out the cons-mostly the pacing-but I haven't talked about the pros. For one, when the action finally did happen,
it happened
. I don't mean to say that nothing happened during the first half of the book, but comparing the beginning and the last half of the book, you can see which one is more interesting. The last half convinced me how awesome this book was, but the beginning of the book was important too. Without it, I wouldn't have become so engrossed with the world. Marillier has thick descriptions, to be less than generous, but at the same time, her writing is gorgeous in its own way. She has a way with words, to be sure. We are introduced to tons of characters. Most of the time, it's hard to remember characters when there are so many; Marillier is simply fantastic at separating out characters. Everyone has their own qualities, and I never confused another character with another. That in itself is something to be proud of! She can write wicked characters too. Oh my god, some of the characters had my flesh crawling. I can honestly say that has never happened to me before while reading a book, but Marillier also has a talent of writing exquisitely evil and treacherous characters. I felt like killing a couple of the characters myself.
Overall, this book was a fantastic fantasy. I'd call it the best of its genre, and I can see why it's so popular. Though the first half of the book had slow pacing, the world building was excellently executed and characters each thoroughly and carefully introduced. The romance is what makes this book distinguishable from other fantasy novels in the trials the couple endures, and the way the author turns a cliche into a wonderful and slow burn romance. Though this book isn't highly recommended from me for new readers of the fantasy genre, if you have read a fair amount of fantasy, this book would be perfect for you!